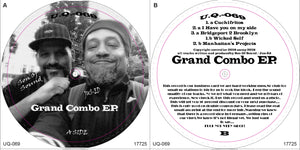 Description: A Puerto Rican Sound Of Sound. and A Cape Verdean Jus-Ed
Both from the Tri-State area of America. Bridgeport CT. / Brooklyn NY.
Have decided to put there Cultural Musical taste into a Studio pot to come up
with The Grand Combo ep. 5 delicious tracks.
This is a Club Classic Record.
And a must have in your bag and collection.